Welcome to the home for Yin Yoga on the web. Many people come here because of a question: "What is Yin Yoga?" The answer is not really found through a website but you can start to understand Yin Yoga by watching this short video: An Introduction To Yin Yoga. The video is just the beginning of the answer – to really understand Yin Yoga, or any form of yoga, one must experience it. Reading about yoga is like reading a menu when you are hungry: interesting, maybe even mouth watering, but until you actually partake of what you are seeing, your need will not be quenched.
This site, in the words of Paul Grilley, is "a website for all things yin." Inside you will find a complete online book (YinSights) describing the history and benefits of Yin Yoga, how to do the practice, explanations of the most common postures (asanas), through both video presentations and written descriptions, and even YouTube playlists that can guide you through several complete Yin Yoga practices. You will also find links to more elegant video resources that can give you a deeper taste of Yin Yoga and a Teacher Directory with listings of Yin Yoga teachers all around the world.
And if you still have questions after all this, there is a Forum where you can ask questions about yoga in general or about Yin Yoga specifically. The purpose of this site is to help the interested student start her own journey of discovery, while providing some help to the many who are already deep into the practice. Keep checking back over time as we continue to build and grow this site as a resource you can come to over and over again, as you travel your unique path.
Enjoy the journey! Bernie Clark,
Creator of YinYoga.com
Our Offerings
Both the 50-hour Yin Yoga Teacher Training Program with Diana Batts and Bernie Clark and the 40-hour Meditation Revealed with Nathalie Keiller and Bernie Clark have been cancelled for the rest of 2020. This is due to the coronavirus pandemic and the closing of the host studio, Semperviva. We do expect to continue these in-person trainings in 2021, but the timing and locations cannot be determined yet.
However, many students have reached out to us requesting an online version of the Yin Yoga teacher training and we are happy to announce that this is happening. Two offerings are available: a short 8-hour Yin Yoga session and a full 50-hour online Yin Yoga Teacher Training program. Both of these trainings are eligible for continuing education credits with Yoga Alliance. The 50-hour online  Yin Yoga Teacher Training course is very similar to the in-person offering. Full details can be found at Yoga International. The next course is scheduled to begin July 20, 2020. We also plan to offer the training again on November 2nd.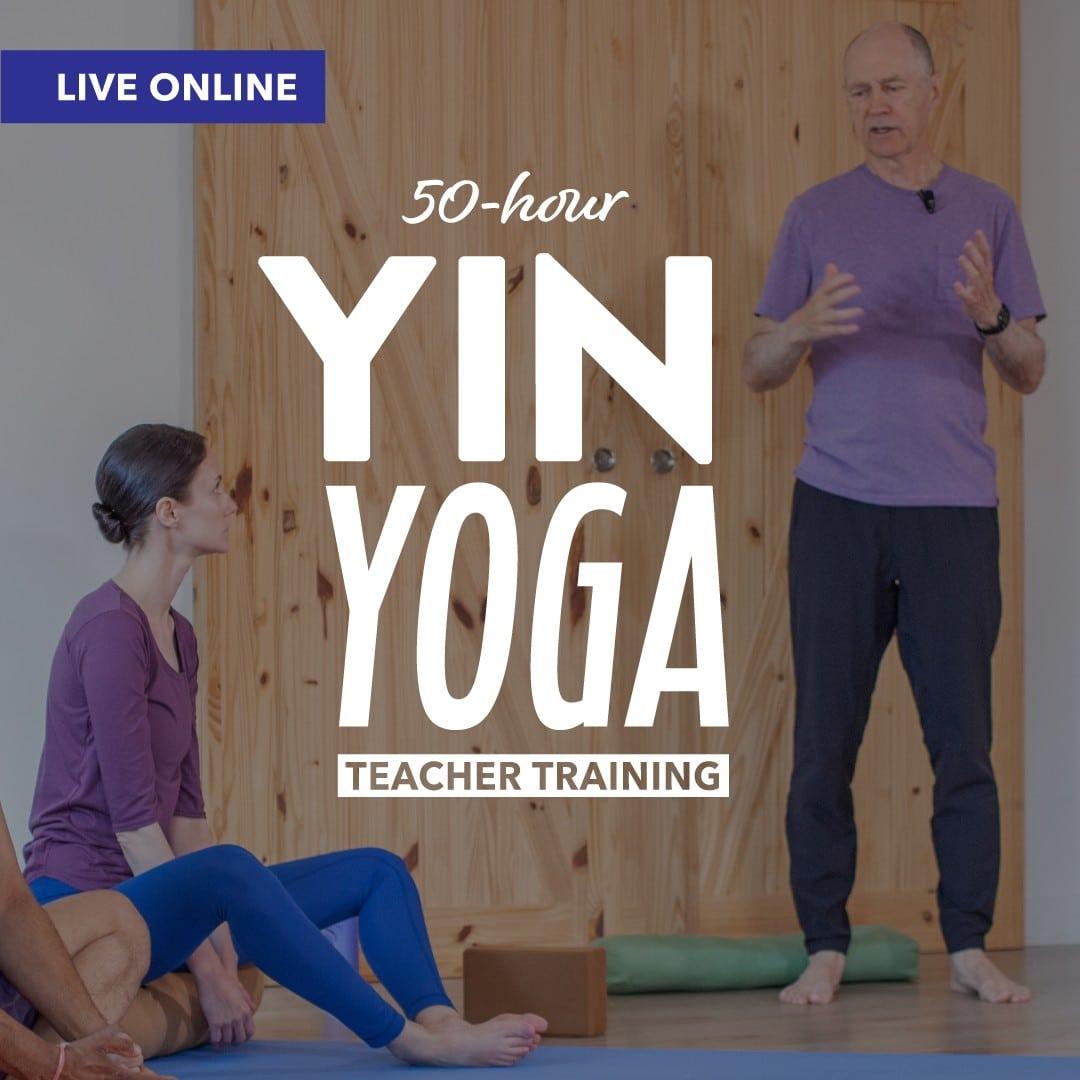 Live Online 50-Hour Yin Yoga Teacher Training
These trainings consist of live sessions lasting 5.5 hours (which include a 30-minute break) and then 1 or 2 recorded sessions per day.The live sessions will begin at 8:00 am PDT (Vancouver time) which is 11:00 am EDT and 4:00 pm GMT. During the  live presentations there are chances for questions and answers. The pre-recorded sessions are usually  video classes. There is also a small amount of self-study each day. However, there is a lot of flexibility for students who cannot devote a full week to the course. For students unable to view the entire day's video, or for those in different time zones, the live sessions will be recorded and can be viewed at any other convenient time. There is no deadline for completing the training, so you can go at your own pace.
The next session will begin on Monday, July 20th. And we plan to run it again November 2nd.  Registration is open for the July training at Yoga International

Through these 8 on-line yin yoga classes you will learn
The nature of yin and yang

To practice with intention and attention

The 3 principles of the yin yoga

The reality of human variations

To create a functional yoga practice

To develop anti-fragility

To develop mindfulness
Bernie Clark has a passion of sharing. He has done this via his live classes for 20 years and also through his videos, teacher trainings, this web site and through his writings. Below are 4 of the most recent books written by Bernie, which he hopes will help you deepen your practice.